Card name:
Windrider Patrol
Mana Cost:
Converted Mana Cost:
5
Types:
Creature — Merfolk Wizard
Card Text:
Flying


Whenever Windrider Patrol deals combat damage to a player, scry 2. (Look at the top two cards of your library, then put any number of them on the bottom of your library and the rest on top in any order.)

P/T:
(4/3)
Expansion:
Battle for Zendikar
Rarity:
Uncommon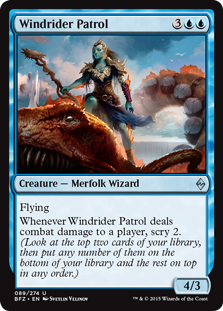 Ad blocker interference detected!
Wikia is a free-to-use site that makes money from advertising. We have a modified experience for viewers using ad blockers

Wikia is not accessible if you've made further modifications. Remove the custom ad blocker rule(s) and the page will load as expected.