This article is about a card that isn't currently available in-game.
It might be used in AI decks or have been rotated out of the Starter set.
Card name:
Golgari Guildgate
Converted Mana Cost:
0
Types:
Land — Gate
Card Text:
Golgari Guildgate enters the battlefield tapped.


: Add or to your mana pool.

Flavor Text:
Enter those who are starving and sick. You are welcome among the Swarm when the rest of Ravnica rejects you.
Rarity:
Common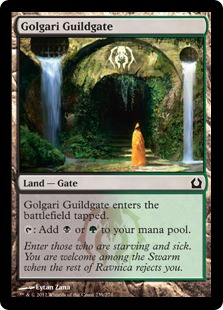 Card rulings (?)

| | |
| --- | --- |
| 2013-04-15 | The subtype Gate has no special rules significance, but other spells and abilities may refer to it. |
| 2013-04-15 | Gate is not a basic land type. |
Ad blocker interference detected!
Wikia is a free-to-use site that makes money from advertising. We have a modified experience for viewers using ad blockers

Wikia is not accessible if you've made further modifications. Remove the custom ad blocker rule(s) and the page will load as expected.