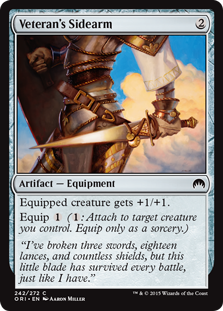 Equip is an activated ability that lets you attach an equipment to one of your creatures. It can be played at Sorcery speed.
Card and Color Distribution
Edit
Equip can only be found on artifacts with the Equipment subtype.
Almost all artifacts are colorless.
Skill Quest
Edit
You can play the skill quest "Equipment" to see how this game concept works.
Equipment cards represent weapons, armor, and other items you can give your creatures to make them better. Most artifacts, including Equipment, are colorless, so they go well in any deck.
During your main phase, you can pay the equip cost to attach the Equipment to a creature or move it from one creature to another. If the equipped creature leaves the battlefield, the Equipment stays behind, ready to be equipped to another creature.
Sucess! A common tactic is to attack with an equipped creature and then move the Equipment onto an untapped creature after combat to strengthen your defenses for the following turn.
Comprehensive Rules
Edit
702.6. Equip
702.6a Equip is an activated ability of Equipment cards. "Equip [cost]" means "[Cost]: Attach this permanent to target creature you control. Activate this ability only any time you could cast a sorcery."
702.6b For more information about Equipment, see rule 301, "Artifacts."
702.6c If a permanent has multiple instances of equip, any of its equip abilities may be activated.[1]
Equip Cardlist
Edit
18 results
Ashmouth Blade (1)
Artifact — Equipment
Equipped creature gets +3/+3 and has first strike.


Equip

Bone Saw (0)
Artifact — Equipment
Equipped creature gets +1/+0.


Equip (: Attach to target creature you control. Equip only as a sorcery.)

Chitinous Cloak (3)
Artifact — Equipment
Equipped creature gets +2/+2 and has menace. (It can't be blocked except by two or more creatures.)


Equip

Cultist's Staff (2)
Artifact — Equipment
Equipped creature gets +2/+2.


Equip (: Attach to target creature you control. Equip only as a sorcery.)

Haunted Cloak (3)
Artifact — Equipment
Equipped creature has vigilance, trample, and haste.


Equip

Inventor's Goggles (1)
Artifact — Equipment
Equipped creature gets +1/+2.


Whenever an Artificer enters the battlefield under your control, you may attach Inventor's Goggles to it.
Equip (: Attach to target creature you control. Equip only as a sorcery.)

Murderer's Axe (4)
Artifact — Equipment
Equipped creature gets +2/+2.


Equip—Discard a card.

Neglected Heirloom (1)
Artifact — Equipment
Equipped creature gets +1/+1.


When equipped creature transforms, transform Neglected Heirloom.
Equip

Scrounged Scythe (3)
Artifact — Equipment
Equipped creature gets +1/+1.


As long as equipped creature is a Human, it has menace. (It can't be blocked except by two or more creatures.)
Equip

Sigil of Valor (2)
Artifact — Equipment
Whenever equipped creature attacks alone, it gets +1/+1 until end of turn for each other creature you control.


Equip (: Attach to target creature you control. Equip only as a sorcery.)

Skeleton Key (1)
Artifact — Equipment
Equipped creature has skulk. (It can't be blocked by creatures with greater power.)


Whenever equipped creature deals combat damage to a player, you may draw a card. If you do, discard a card.
Equip

Slab Hammer (2)
Artifact — Equipment
Whenever equipped creature attacks, you may return a land you control to its owner's hand. If you do, the creature gets +2/+2 until end of turn.


Equip

Slayer's Plate (3)
Artifact — Equipment
Equipped creature gets +4/+2.


Whenever equipped creature dies, if it was a Human, create a 1/1 white Spirit creature token with flying.
Equip

Stoneforge Masterwork (1)
Artifact — Equipment
Equipped creature gets +1/+1 for each other creature you control that shares a creature type with it.


Equip

Strider Harness (3)
Artifact — Equipment
Equipped creature gets +1/+1 and has haste.


Equip

Throwing Knife (2)
Artifact — Equipment
Equipped creature gets +2/+0.


Whenever equipped creature attacks, you may sacrifice Throwing Knife. If you do, Throwing Knife deals 2 damage to target creature or player.
Equip (: Attach to target creature you control. Equip only as a sorcery.)

Torch Gauntlet (2)
Artifact — Equipment
Equipped creature gets +2/+0.


Equip (: Attach to target creature you control. Equip only as a sorcery.)

Veteran's Sidearm (2)
Artifact — Equipment
Equipped creature gets +1/+1.


Equip (: Attach to target creature you control. Equip only as a sorcery.)
References
Edit