This article is about a card that isn't currently available in-game.
It might be used in AI decks or have been rotated out of the Starter set.
Card name:
Dreg Reaver
Mana Cost:
Converted Mana Cost:
5
Types:
Creature — Zombie Beast
Flavor Text:
"On our thirty-fourth day of digging, we unearthed a chamber that contained the intact remains of several species long extinct from Grixis. One in particular should make a fine siege engine . . . ."


—Last notes of Shungus Nod, fleshcrafter

P/T:
(4/3)
Rarity:
Common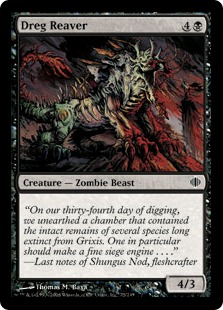 Ad blocker interference detected!
Wikia is a free-to-use site that makes money from advertising. We have a modified experience for viewers using ad blockers

Wikia is not accessible if you've made further modifications. Remove the custom ad blocker rule(s) and the page will load as expected.