The second mission in
Magic Duels: Battle for Zendikar
is Gideon's fight against a group of Zendikari.
Intro Text
If you hope to reclaim Sea Gate, you will need the help of all those willing and able to fight. But when you approach a group of Zendikari, they are hostile. They band together against you, the outsider. You're going to have to prove yourself.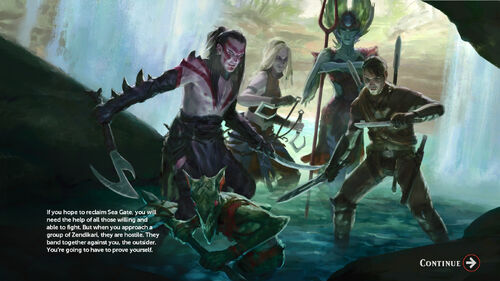 Victory Text
Decklists
Edit
---
Gideon's Deck (45 cards)
19 Lands


19 Plains
17 Creatures


4 Glory Seeker
3 Kor Castigator
2 Eagle of the Watch
4 Shadow Glider
2 Ondu Greathorn
2 Felidar Sovereign
5 Enchantments


3 Stasis Snare
2 Retreat to Emeria
2 Instants


2 Tandem Tactics
2 Sorceries


2 Windborne Charge

---
Zendikari Deck (45 cards)
24 Lands


4 Evolving Wilds
2 Canopy Vista
4 Forest
14 Plains
21 Creatures


2 Cliffside Lookout
4 Kor Castigator
3 Serene Steward
3 Makindi Patrol
4 Stonework Puma
2 Kor Entanglers
3 Tajuru Beastmaster

Try to stall the Zendikari onslaught. Use Stasis Snare on Kor Entanglers or Tajuru Beastmaster. Once you've stabilized deal damage with flying creatures --there are no fliers in the opponent's deck. Use Felidar Sovereign to gain life back.