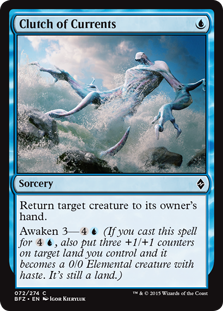 Awaken is an ability that lets you pay an alternative casting cost in order to transform a land into a creature. Awaken can only be found on sorcery and instant spells.
Ingame Description
Edit
Awaken is an alternative cost that appears on some spells in the form "Awaken N-[Cost]". You can pay the cost listed after the dash rather than the spell's normal mana cost (the mana symbols in the upper right corner). If you do, in addition to the spells's normal effect, you can turn one of your lands into an Elemental creature and put N +1/+1 counters on it. For example, a spell with awaken 3 can turn one of your lands into a 3/3 Elemantal creature that's still a land.
Color Distribution
Edit
Awaken can often be found on
and
cards.
Expansion Info
Edit
Awaken was introduced into Magic Duels with the second expansion Battle for Zendikar.
Skill Quest
Edit
You can play the skill quest "Awaken" to see how this game concept works.
Spells with awaken can turn your lands into Elemental creatures. You can choose to cast a spell using the awaken ability by paying the awaken cost instead of the normal cost.
The spell will have its normal effects, plus the awaken ability will turn one of your lands into a creature.
For example, a spell with awaken 3 puts three +1/+1 counters on the land and turns it into a creature, making it a 3/3 land creature.
Well done! Spells with awaken can target lands you control that are already creatures to pile on more +1/+1 counters.
You can cast spells with awaken for their normal cost as well. It won't wake up your lands, but you'll still get the spell's other effects.
Watch this explanatory video to see how this game concept works.
Note: The video is based on the physical card game. Shown cards might not appear in Magic Duels.
Comprehensive Rules
Edit
702.112. Awaken
702.112a Awaken appears on some instants and sorceries. It represents two abilities: a static ability that functions while the spell with awaken is on the stack and a spell ability. "Awaken N—[cost]" means "You may pay [cost] rather than pay this spell's mana cost as you cast this spell" and "If this spell's awaken cost was paid, put N +1/+1 counters on target land you control. That land becomes a 0/0 Elemental creature with haste. It's still a land." Paying a spell's awaken cost follows the rules for paying alternative costs in rules 601.2b and 601.2f–h.
702.112b The controller of a spell with awaken chooses the target of the awaken spell ability only if that player chose to pay the spell's awaken cost. Otherwise the spell is cast as if it didn't have that target.[1]
Awaken Cardlist
Edit
11 results
Boiling Earth (2)
Sorcery
Boiling Earth deals 1 damage to each creature your opponents control.


Awaken 4— (If you cast this spell for , also put four +1/+1 counters on target land you control and it becomes a 0/0 Elemental creature with haste. It's still a land.)

Clutch of Currents (1)
Sorcery
Return target creature to its owner's hand.


Awaken 3— (If you cast this spell for , also put three +1/+1 counters on target land you control and it becomes a 0/0 Elemental creature with haste. It's still a land.)

Coastal Discovery (4)
Sorcery
Draw two cards.


Awaken 4— (If you cast this spell for , also put four +1/+1 counters on target land you control and it becomes a 0/0 Elemental creature with haste. It's still a land.)

Mire's Malice (4)
Sorcery
Target opponent discards two cards.


Awaken 3— (If you cast this spell for , also put three +1/+1 counters on target land you control and it becomes a 0/0 Elemental creature with haste. It's still a land.)

Ondu Rising (2)
Sorcery
Whenever a creature attacks this turn, it gains lifelink until end of turn.


Awaken 4— (If you cast this spell for , also put four +1/+1 counters on target land you control and it becomes a 0/0 Elemental creature with haste. It's still a land.)

Part the Waterveil (6)
Sorcery
Take an extra turn after this one. Exile Part the Waterveil.


Awaken 6— (If you cast this spell for , also put six +1/+1 counters on target land you control and it becomes a 0/0 Elemental creature with haste. It's still a land.)

Planar Outburst (5)
Sorcery
Destroy all nonland creatures.


Awaken 4— (If you cast this spell for , also put four +1/+1 counters on target land you control and it becomes a 0/0 Elemental creature with haste. It's still a land.)

Rising Miasma (4)
Sorcery
All creatures get -2/-2 until end of turn.


Awaken 3— (If you cast this spell for , also put three +1/+1 counters on target land you control and it becomes a 0/0 Elemental creature with haste. It's still a land.)

Roil Spout (3)
Sorcery
Put target creature on top of its owner's library.


Awaken 4— (If you cast this spell for , also put four +1/+1 counters on target land you control and it becomes a 0/0 Elemental creature with haste. It's still a land.)

Scatter to the Winds (3)
Instant
Counter target spell.


Awaken 3— (If you cast this spell for , also put three +1/+1 counters on target land you control and it becomes a 0/0 Elemental creature with haste. It's still a land.)

Sheer Drop (3)
Sorcery
Destroy target tapped creature.


Awaken 3— (If you cast this spell for , also put three +1/+1 counters on target land you control and it becomes a 0/0 Elemental creature with haste. It's still a land.)
References
Edit